Services for Sunday 7th March - the Third Sunday of Lent

Owing to current the Coronavirus situation and restrictions, we are very sorry but we are unable to safely open the Chuches of The Downs Benefice for services until further notice.

 

 

Benefice Morning Prayer comes into your home

Tuesdays at 9:30am on Zoom. 

Come and join us!

If you would like to join us for this short service please call on 01962 880 845 or send an email to the

We can then get in touch with you, sending you a copy of the service and the link to Zoom.

 

 

The Churches are also open for Individual Private Prayer at these times:

Masks must be worn in Church.

| | | |
| --- | --- | --- |
| St Mary the Less, Chilbolton | 9am - 4pm | Closed until further notice |
| St Mary's, Crawley | 10am - 4pm | Sundays |
| St Catherine's, Littleton | 10am - 4pm | Wednesdays (and Saturday 30th January) |
| St Stephen's, Sparsholt | 10am - 4pm | Closed until further notice |
| St Peter & Holy Cross, Wherwell | 10am - 4pm | Closed until further notice |

 
Lent Course - #LiveLent 2021, God's Story, Our Story
Revd Jax will host a Zoom meeting on  Thursday evenings at 7.00pm, beginning 18th February.
Each of the seven weekly sessions offers a reflection on a given bible reading, a prayer and an action on what is described as 'a unifying theme' to be undertaken during the week. The course encourages all Christians to think about their calling, how to share their faith and reflect on the difference Christ makes in our lives.
To join the weekly Zoom meetings, please register your email address with the Benefice Office to receive the weekly Zoom link.
For full details see Lent
Wednesday 17th February - Ash Wednesday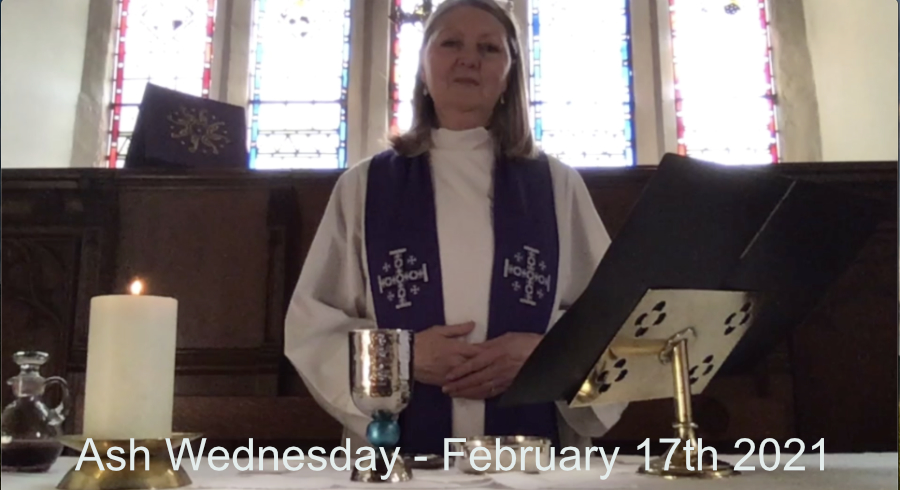 click on video to open video viewer
Messy Lent and Messy Easter
For full details please see Kids Corner
Here is a colouring sheet of activities to do over the 40 days of Lent. Pick one as a family to do each day, and colour it in when you've completed it. We'd love you to share any photos of what you've been doing either by email or on our Facebook page
Looking ahead, we plan to put together a Messy Easter bag of activities.
Bags will be handed out at Sparsholt and Littleton churches between 10am and 11am on Saturday 20th March.
Prayer for today - Friday 5th March
Almighty God,
you show to those who are in error the light of your truth,
that they may return to the way of righteousness:
grant to all those who are admitted
into the fellowship of Christ's religion,
that they may reject those things
that are contrary to their profession,
and follow all such things as are agreeable to the same;
through our Lord Jesus Christ,
who is alive and reigns with you,
in the unity of the Holy Spirit,
one God, now and for ever.
Amen.
Online Resources for live streamed Sunday and daily services
8.20am Morning Prayer
10am Sung Eucharist
3.30pm Evensong       
1am and 4pm via YouTube 
1.30am via YouTube 
9.30am; 11.30am; 
6pm Compline
11am Choral Eucharist, BCP
6.30pm Choral Evensong, BCP

Letters from Revd Jax
To see previous letters please click

Across the Downs
If you would like to receive our weekly Benefice Newsletter, please email the office so you can be added to the distribution list.
Parish and Village Magazines
Chilbolton & Wherwell Magazine - February 2021
                            Kids Corner                                 
The Five Parish Churches in the Downs Benefice
For a short history and photos of each church please click on the images below.
St Mary the Less Chilbolton
Village Street, Chilbolton, Hampshire, SO20 6BQ
St Mary's Crawley
Main Road, Crawley, Hampshire, SO21 2PZ
St Catherine's Littleton
Main Road, Littleton, Winchester, Hampshire, SO22 6QY
St Stephen's Sparsholt with Lainston
Church Lane, Sparsholt, Hampshire, SO21 2NJ
St Peter and Holy Cross Wherwell
Church Street, Wherwell, Hampshire, SP11 7JJ
In this Benefice we welcome everyone to our altars during communion.

Communicant members from all denominations are most welcome and others are invited for a blessing.